Radio Stikoni


I Sønderborg, lidt uden for byens gågade, på adressen Jernbanegade 37 ligger der en lille radioforretning. Radio Stikoni. De fleste af disse billeder er taget i April måned 2008. ca en måned før ejeren blev alvorligt syg og måtte lukke forretningen. Mens dette skrives ligger forretningen der endnu, og dens videre skæbne er uvis.

In Sønderborg, a little outside the shopping street, on Jernbanegade 37 you find this little Radio shop. These pictures were taken one month before the owner got ill, and had to close the shop.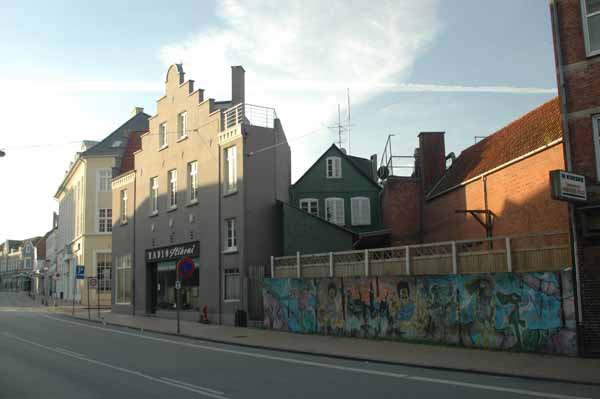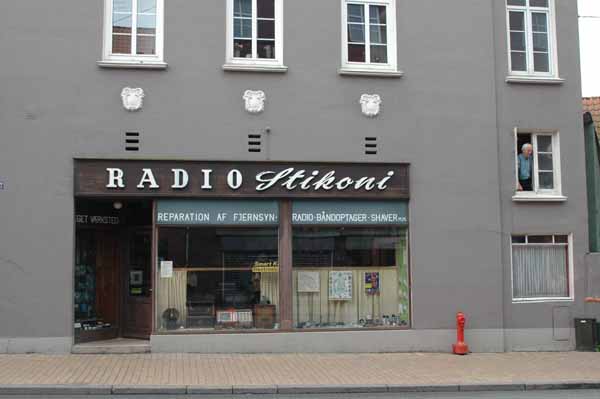 Butikken har stort set ikke ændret sig i de 50 år den har ligget her.
The shop has not changed any much in the more than 50 years it has been here.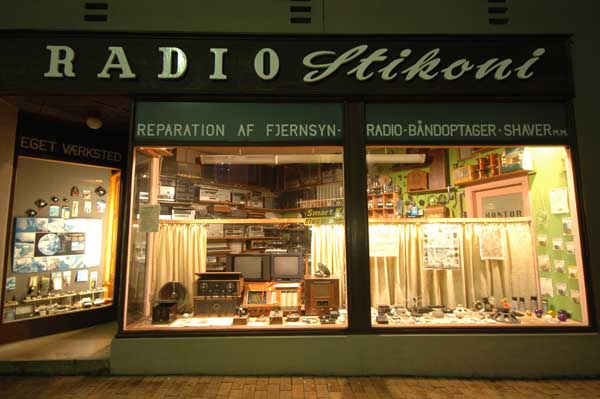 Aftenstemning.
Evening atmosphere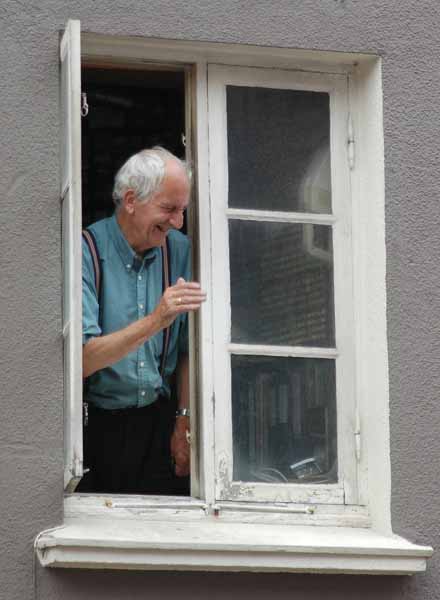 Stikoni er en sammentrækning af Stig Koefoed Nielsen.
Her står Stig i vinduet til værkstedet og vinker ned til et forbipasserende marchorkester.

Stikoni is short for Stig Koefoed Nielsen.
Here he says hello to a passing March orchestra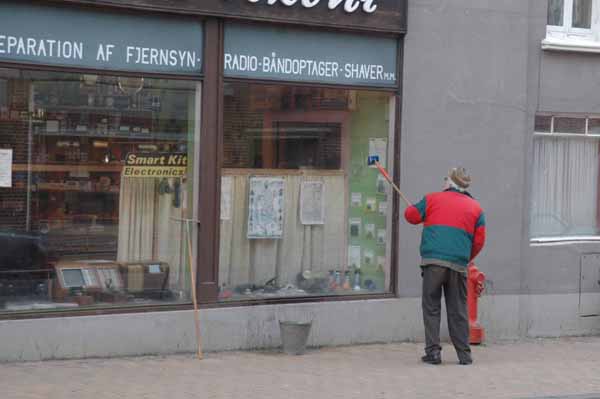 Der er orden i og omkring den lille forretning. Huset har en mærkelig facon. Ved bygningen af jernbanen Sønderborg Mommark blev huset skåret igennem, og der opstod underligt forskudte etager, og trekantede rum. Toget kørte iøvrigt midt på gaden, ca 5 meter fra forretningens vinduer. Jernbanen blev bygget i starten af 1930'erne og der var økonomisk afmatning. Derfor valgte man at skære hjørner af huse, og ladet et tog køre midt på vejen, fordi det var den billigste måde at gøre det på.

The small shop and its surroundings is kept in nice order. The shape of the house is strange. When the railway line Sønderborg-Mommark was build, a corner was cut off the house, and strange shaped rooms were a result. The train came in the middle of the road. The line was build in the early 1930's and the economic depression made sheep solutions like cutting edges of houses, and trains on the road the cheapest solution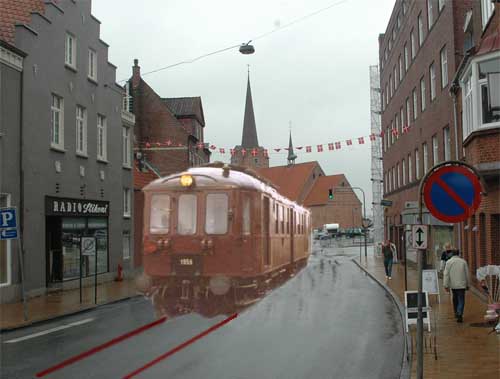 Toget på Jernbanegade (fotomontage)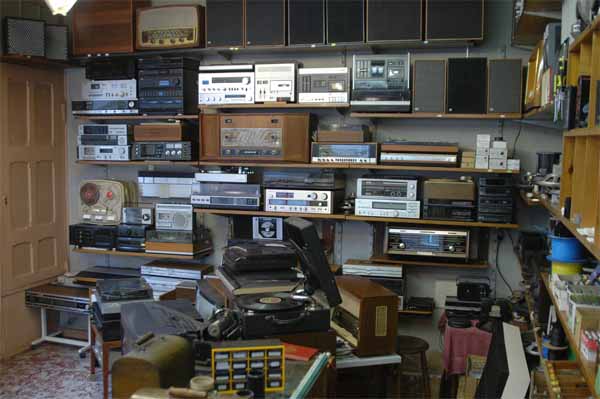 Inde i btikken står der mange gamle radioer, grammofoner, båndoptagere, og meget meget mere.
Og det hele fungerer såmænd.
In the shop you find lots of old radios, grammophomes, tape recorders, and much more. And it works..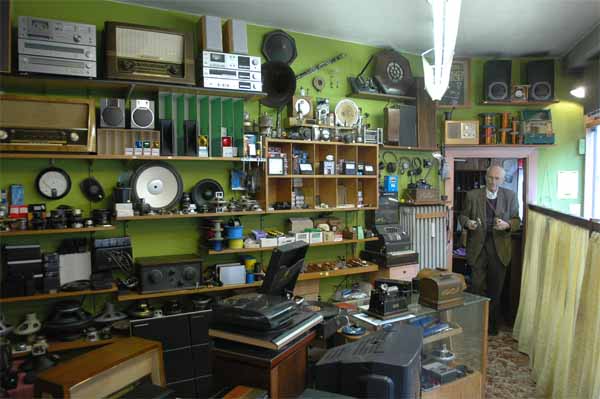 Idet jeg åbnede døren, blev Stig tilkaldt af en klokke oppe på værkstedet.
Her kommer han ud af kontoret, kig også en gang på hylderne.

As I opened the door, Stig was called by a bell up in his workshop.
Here he comes out of his office, have a look at the shelves too.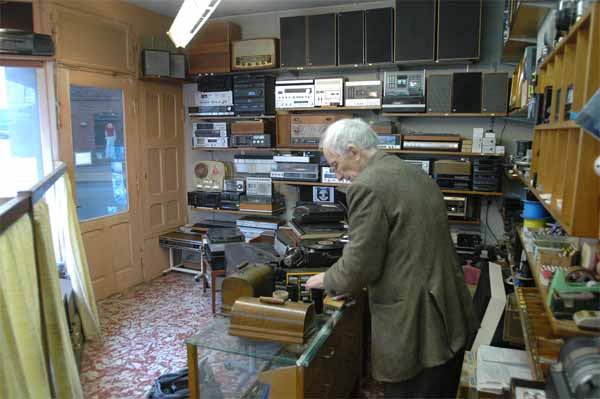 Der ses nærmere på en fonograf. Jeg havde fået en rulle til hans fonograf som der nu blev mulighed for at afprøve.
A closer look at a phonograph, I had got a cylinder for his phonograph, thus it was now possible to test it.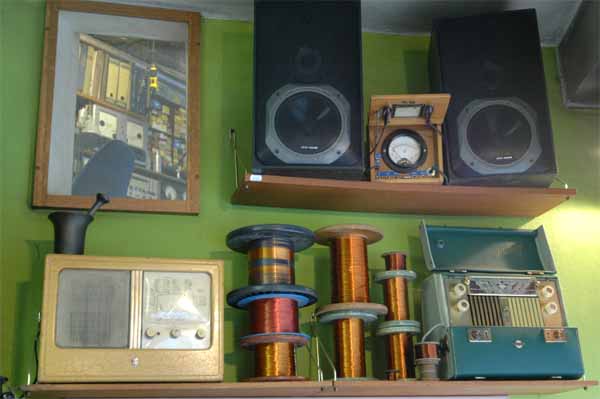 Lidt apparater, ruller med kobbertråd, og kighul så man kan se ned i butikken oppe fra værkstedet - og omvendt.
Some instruments, coils with wire, a window that allows a look from the workshop down in the shop - and vice versa.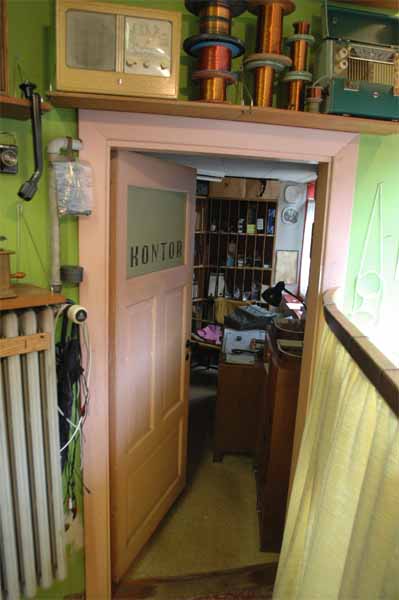 Indgang til kontoret.
Entry to the office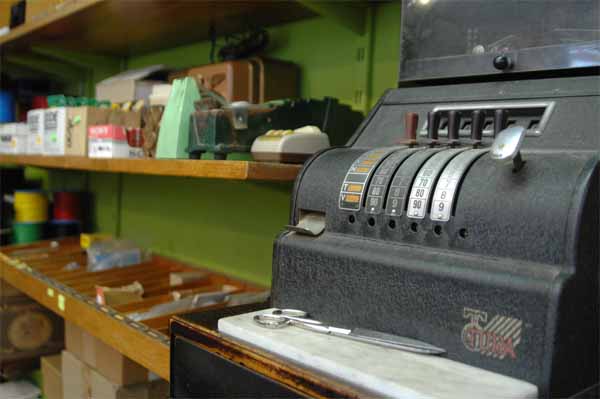 Det gamle National kasseapparat
The old National cash register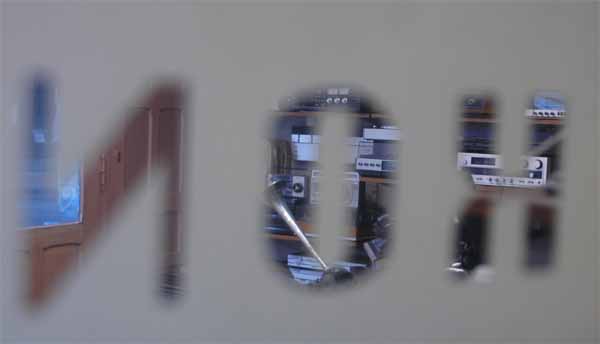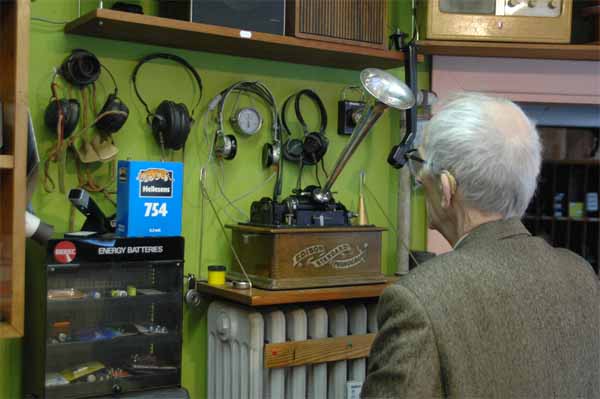 Der ses på flere fonografer.
Looking at more phonographs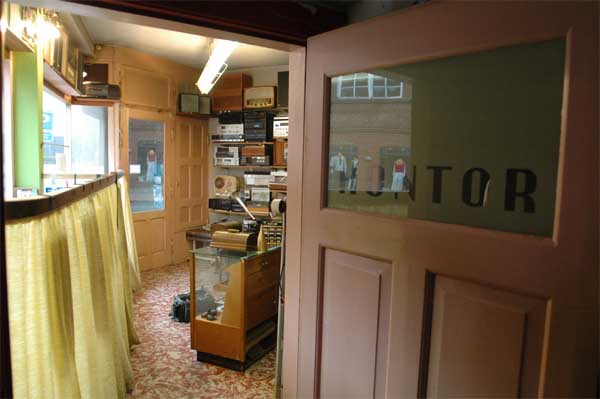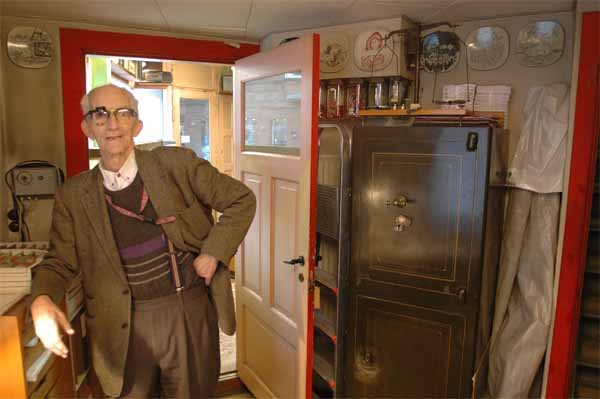 Kontoret, med Stig, og butikken i baggrunden. Både butik og kontor er trekantede rum.
The office with Stig, and the shop behind him. All rooms are triangular.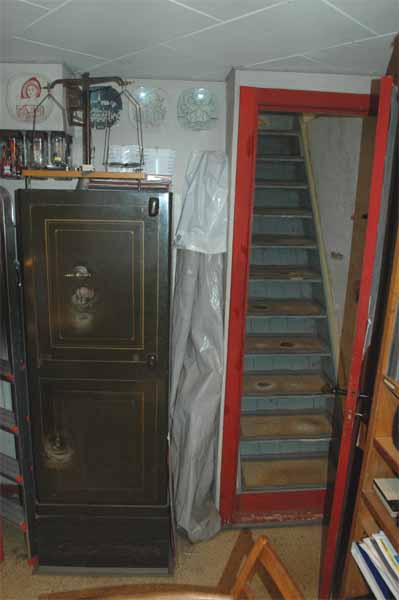 Pengeskab, og trappe op til værkstedet
Safe, and stairs up to the workshop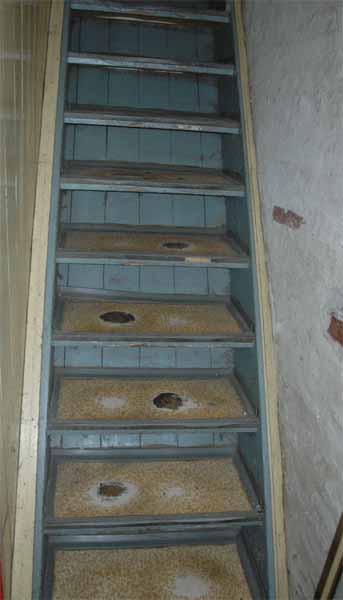 Her har Stig gået mange mange gange
Many steps have been made here.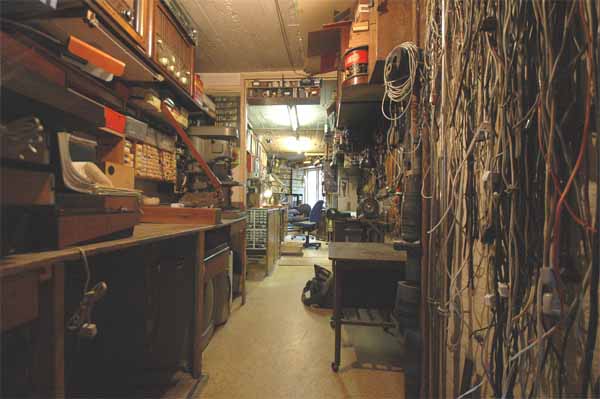 Værkstedet The workshop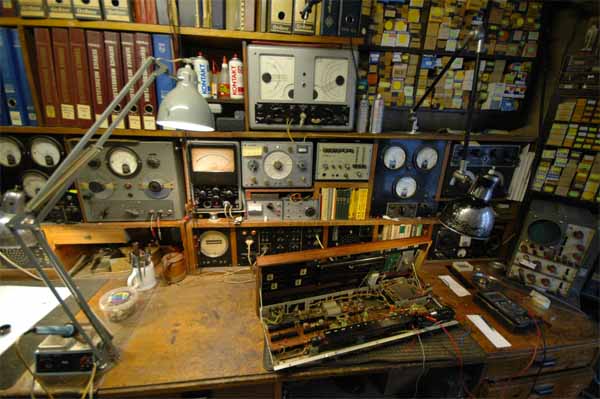 Et B&O anlæg får et eftersyn
A B&O set is having a checkup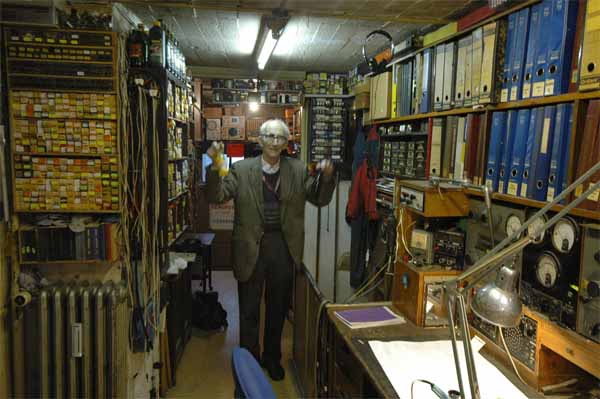 Øl eller Sodavand? Jeg tager en sodavand.
Beer or Soda? I'll have a soda..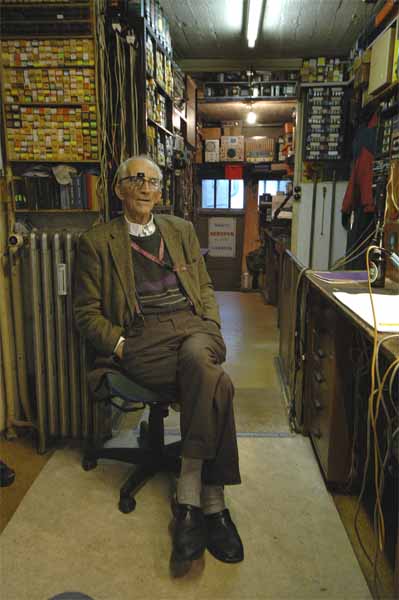 Stig i sit værksted
Stig in his workshop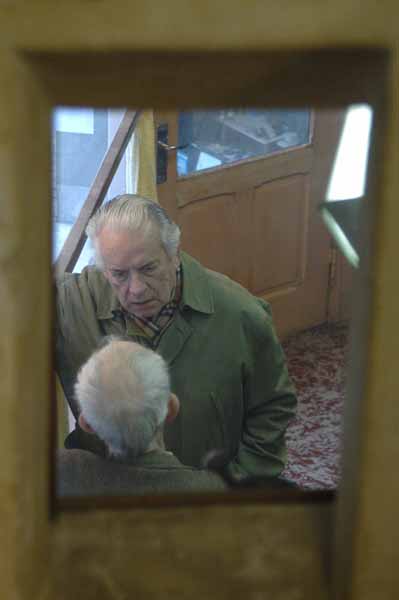 Døren går, og Stig smutter ned i forreningen. Oppe fra Værkstedet har man alletiders indblik i hvad der foregår dernede.
A customer, Stig goes down in the shop. From the worskop there is a fine look down in the shop trough the little window,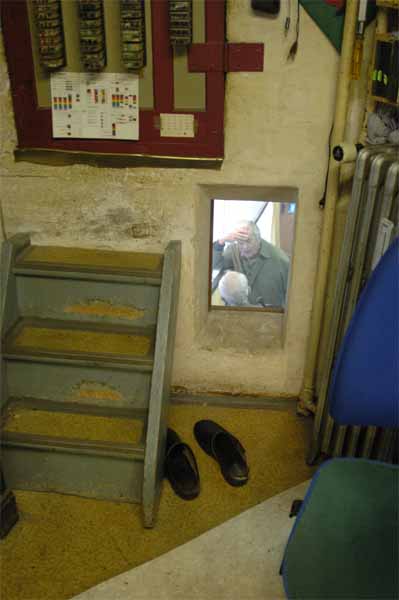 Imens Stig og "Symaskinemanden" får snakket, ser jeg mig lidt omkring i værkstedet. De kunder som Stig ikke kendte af navn, gav han selv et tilnavn.
While Stig and "The Sewing Machine Man" get a talk, I have a look around the workshop. Stig used to give his customerns nicknames when he did not know the real names.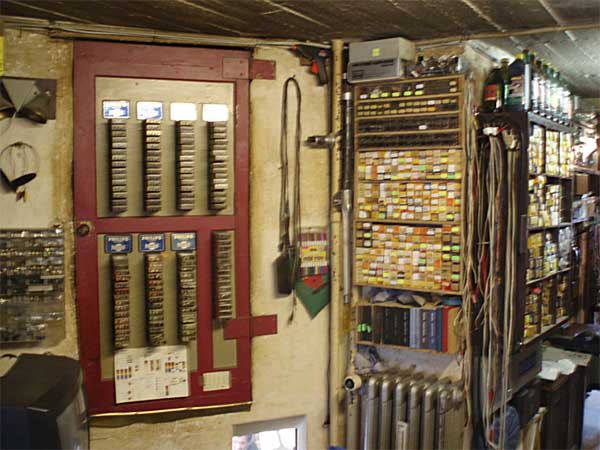 Pladsen er godt udnyttet. Selv en dør kan bruges til æsker med sikringer. Den dør skal man ikke smække hårdt i!
The room is fully used, even a door can be used for cartridges with fuses. Don't slam that door!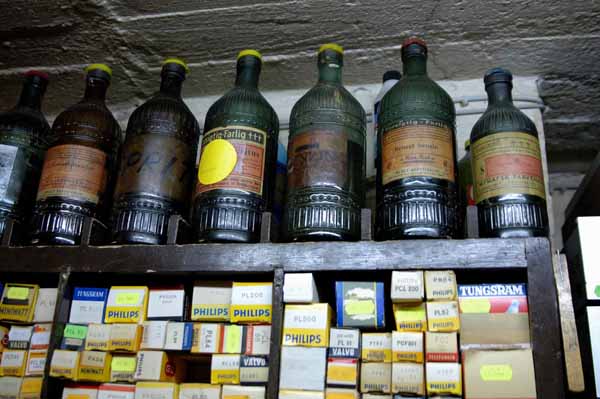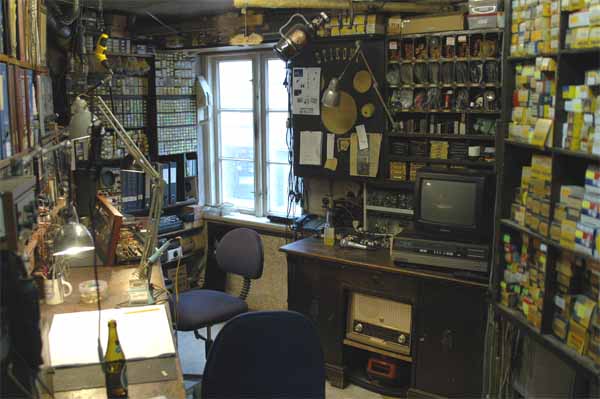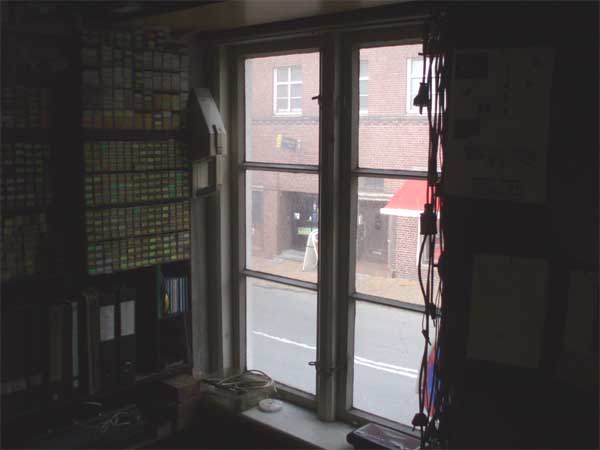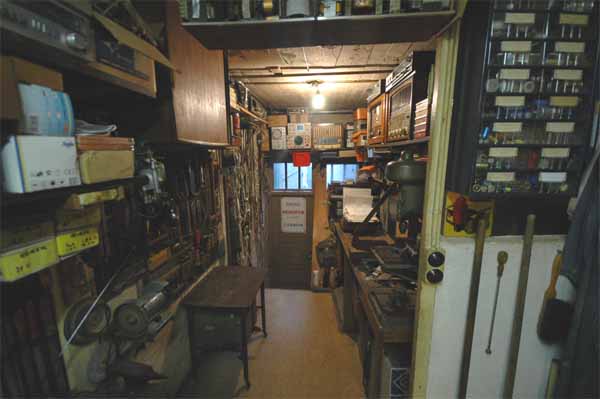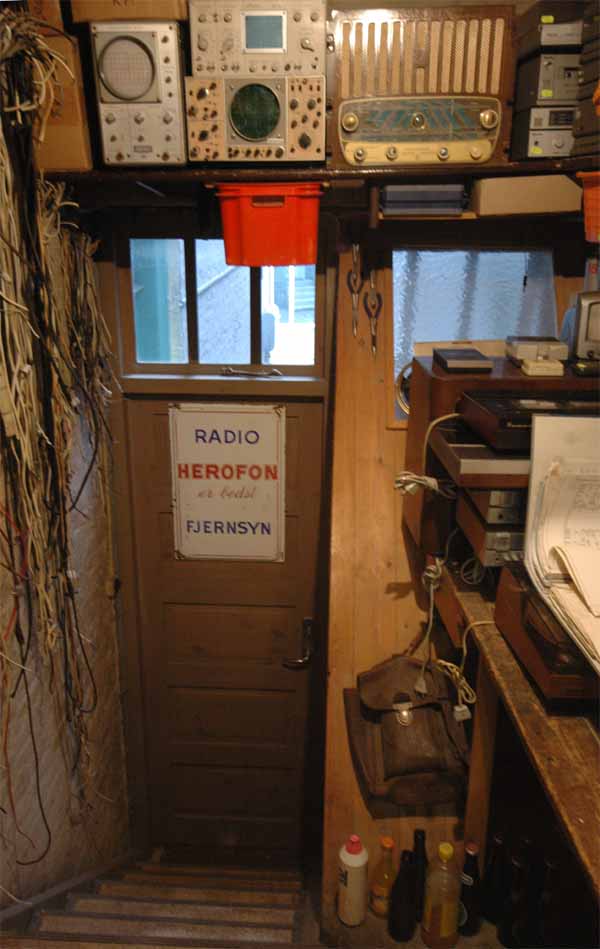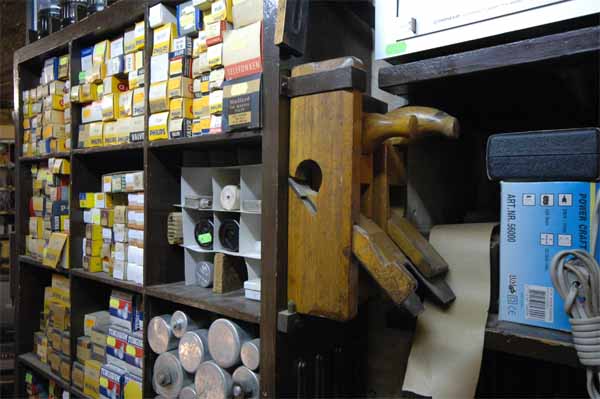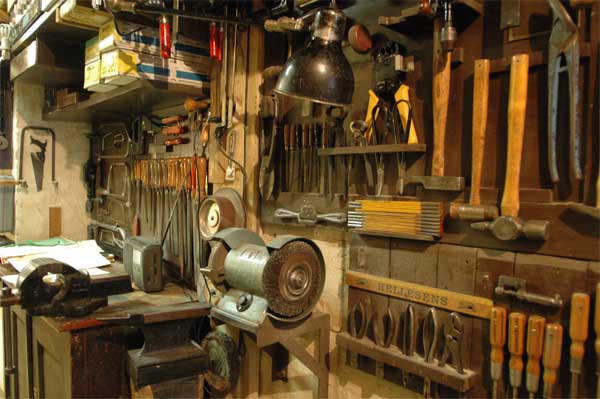 Perfekt orden - over det hele!
Perfect order, all over the place!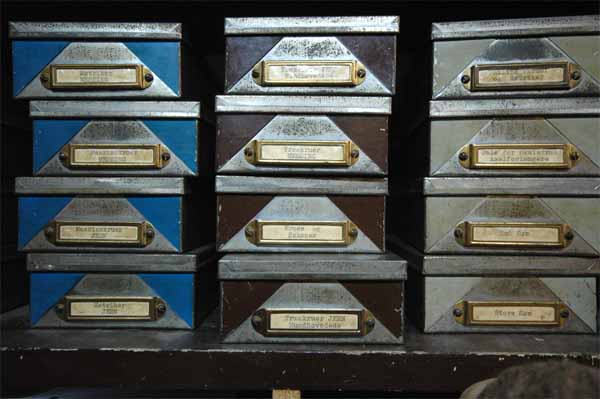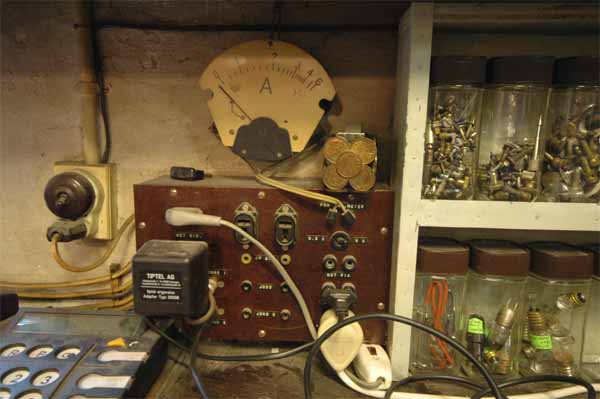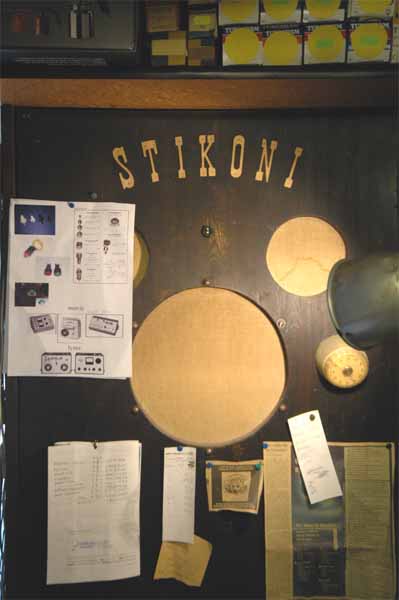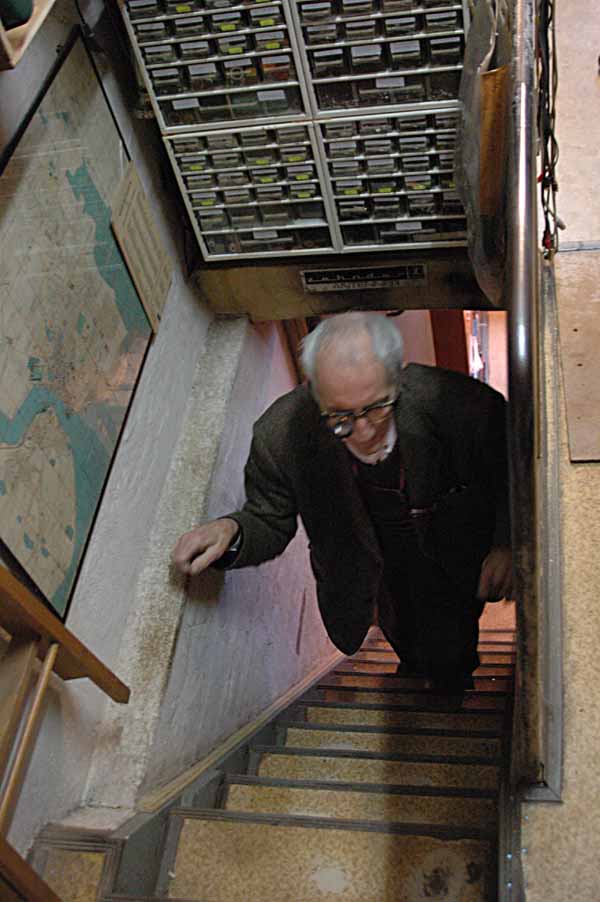 Stig skal op og hente nogle dele til kunden nede i butikken.
Op af trappen,ned af trappen, sådan går det mange gange på en dag.

Stig comes up to get some parts for the customer down in the shop.
Up the stairs, down the stais, many times a day.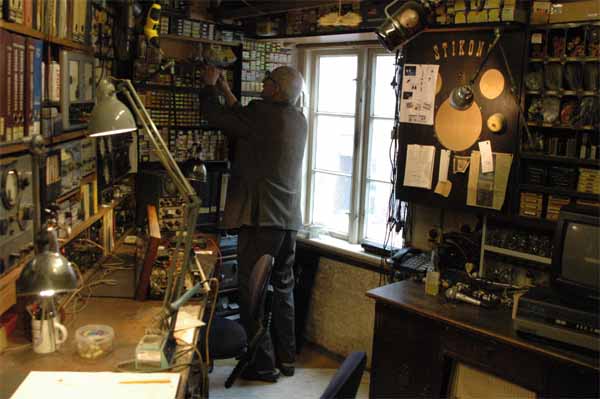 Hele værkstedet er fyldt med omhyggeligt sorterede reservedele, og Stig finder hurtigt det ønskede til kunden.
Every corner is occupied with precisely sorted spare parts, and Stig easily finds what the customer needs.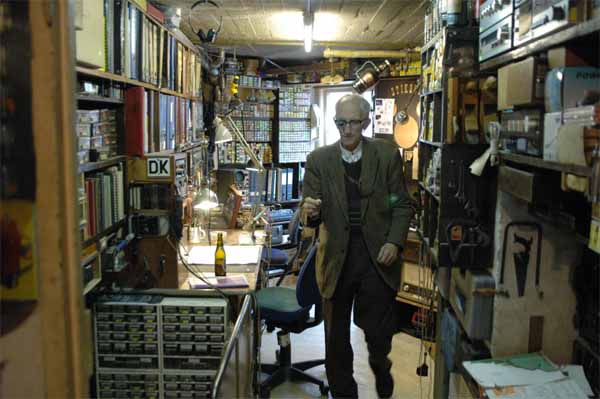 Og så hen til trappen...
And back to the stairs..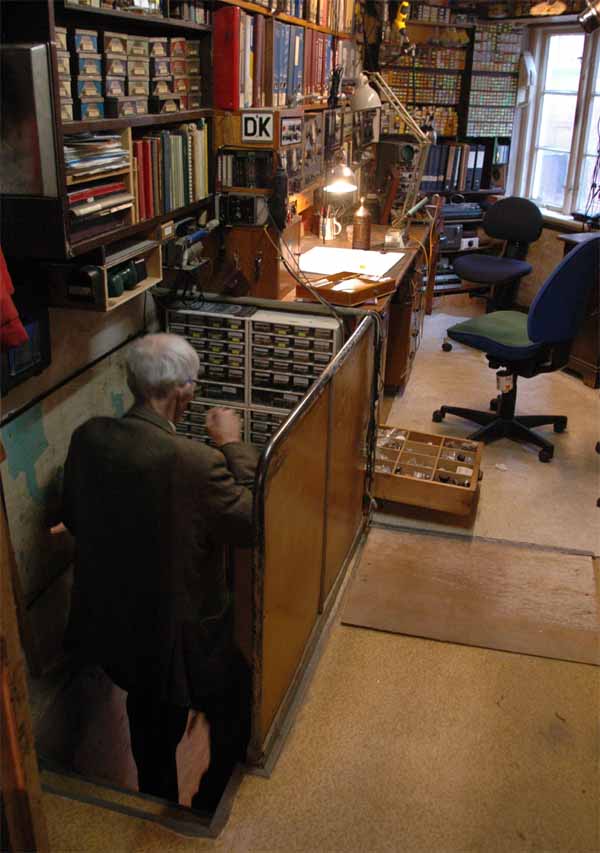 Og ned igen.
Bemærk også dåsen med Slipol som hænger under kontorstolen. Stolens bevægelser dagen igenem sørger for at dåsen altid er rystet og klar til brug!
And down again.
Also notice the can with Slipol, hanging under the office chair. The movements of the chair all day long makes the can being always shaken and ready to use.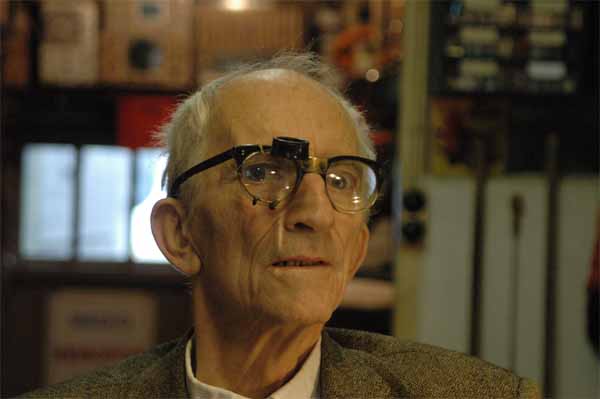 Stikoni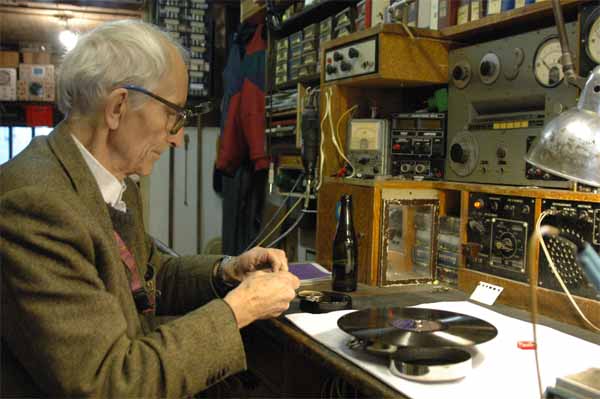 Stig demonstrerer en lille "Mikiphone"; en optrækkelig grammofon i en dåse.
Stig demonstrates a small "Mikiphone"; a small mechanical grammophose in a can.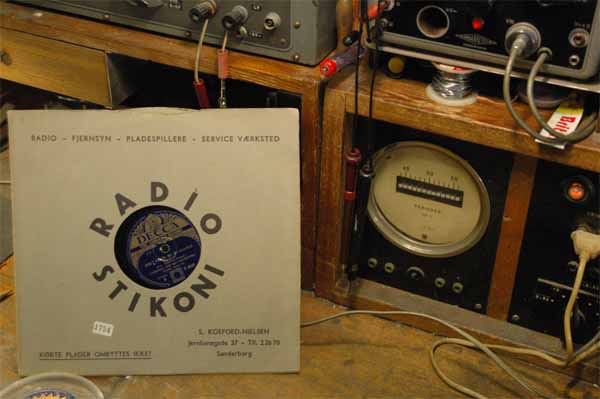 I dag er det pladeselskabet der designer pladehylstret. Tidligere var det radioforretningerne der fik lavet deres eget pladehylster. Her er Stikoni-udgavet af et pladehylster til 78'ere
Today the record companies design the record covers, back in time it was the radio shops that designed their own covers. Here is the Stikoni-version of such a cover for a 78 rpm. record.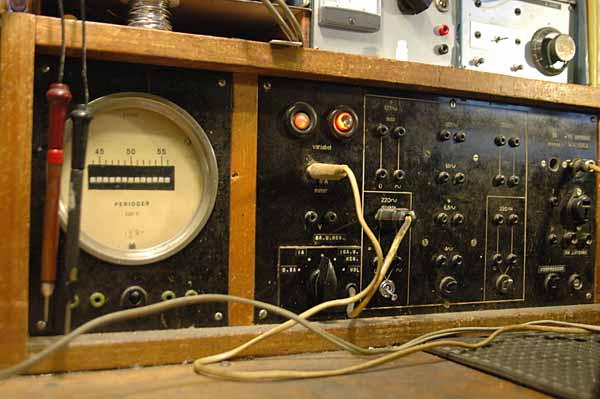 I starten havde huset kun jævnspænding installeret, men en del apparater til vekselspænding var alerede på markedet, og ved f.eks. grammofoner skulle frekvensen gerne passe. Vekselspændingen lavedes med en Ward-Leonard maskine i kælderen, det er en jævnspændingsmotor der trækker en vekselstrømsgenerator. Den kunne høres i hele huset. For at få frekvensen til at passe kunne frekvensen overvåges på et frekvensmeter. Mange yngre har aldrig set sådan et i brug, derfor et eksempel hvor de 50 Hz er ramt - hvilket er nemt nok når man har vekselspænding ude fra bynettet.

At the beginning the house only had direct current installed. But products that needed alternating current were on the market, and grammophones needed a precise frequency. The alternating current was made with a ward-leonard machine in the cellar, a direct current engine driving an alternating curent generator. It could be heard all over the house. In order to get the precise frequency, a frequency meter was used. Many younger have never seen such a meter at work, therfore an example where the 50 cycles per second are hit precisely - now easy enough with A.C. supply from the pulic elictricity network.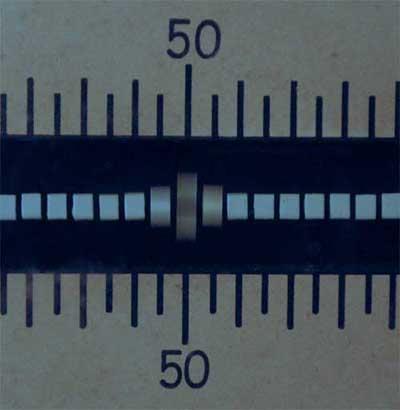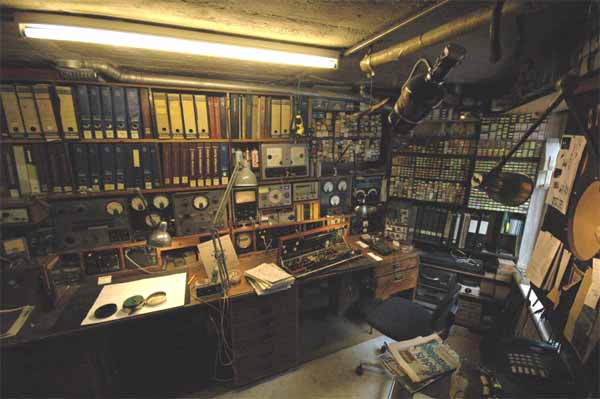 Værkstedet




Omtrent en måned efter at denne billedserie blev taget blev Stig Koefoed Nielsen syg og måtte lukke forretningen. Med nogen optimisme genbrugte han sedlen "Midlertidigt Lukket" fra en tidligere sygeperiode. Men optimisme var ikke nok, og Stikoni døde 4 Juli 2008. Det var således i sidste øjeblik at denne billedreportage blev lavet.

A month or so after this picture essay was made, Stig Koefoed Nielsen got ill, and had to close his shop. With some optimism, he reused the "Temporary Closed" sign from a previous illness. Optimism was not enough, and Stikoni died on the 4th. of July 2008. Thus this picture essay was made in last minute.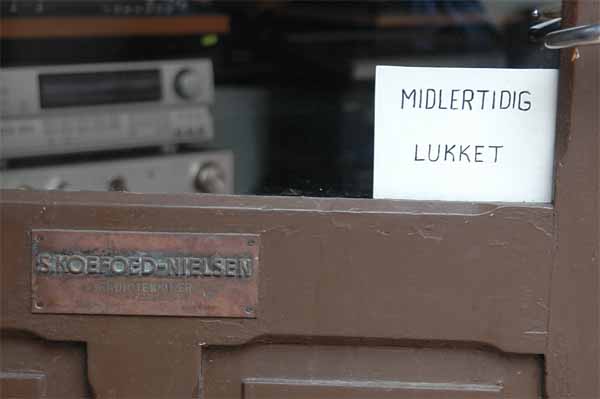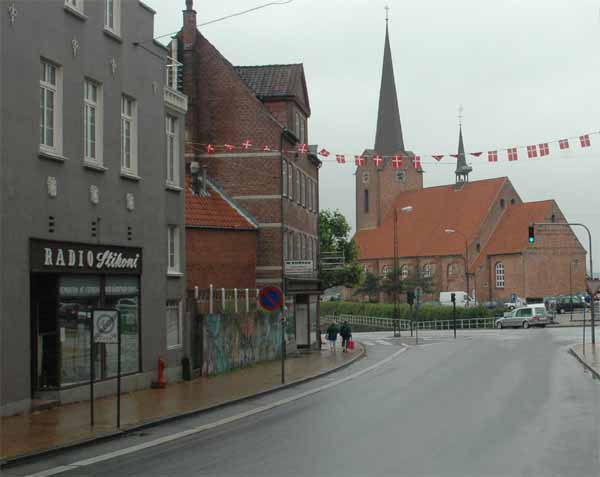 Rustvognen med Stig forlader Sct Marie Kirke, et kort øjeblik spejler den sig i butiksruden på den sidste rejse
The hearse with Stig leaves Sct. Marie Kirke, a short second it mirrors in the shop windows on the last journey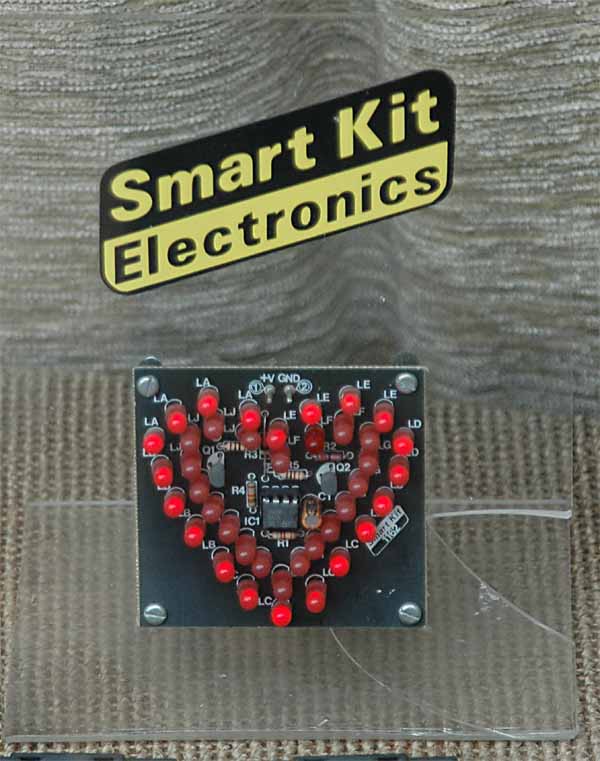 Nu er det slut, men minderne bliver, og endnu står Smart Kit hjertet og blinker i butiksvinduet.
Now it is all over, but memories remain, and the Smart Kit hearth still flahes.

---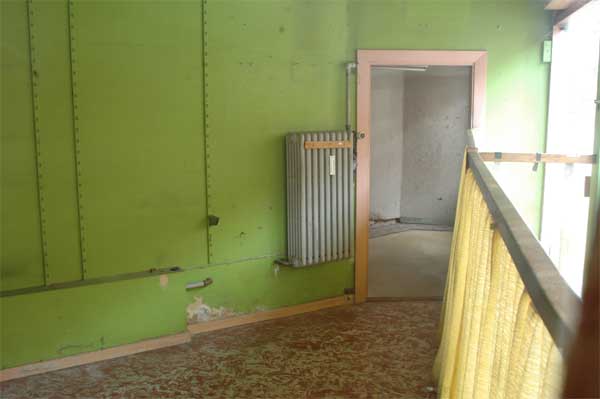 Nu er også Smart Kit hjertet væk, ligesom alt det andet.
Now the Smart kit hearth has gone just as all the other things.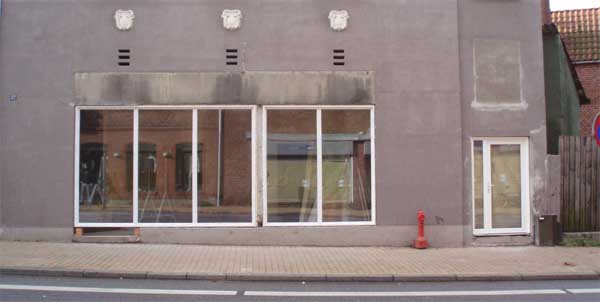 Og butikslokalet ligner heller ikke sig selv mere, det klargøres nu til nyt formål. 2. Oktober 2008
And the shop has changed much too, being prepared for a different use. October 2008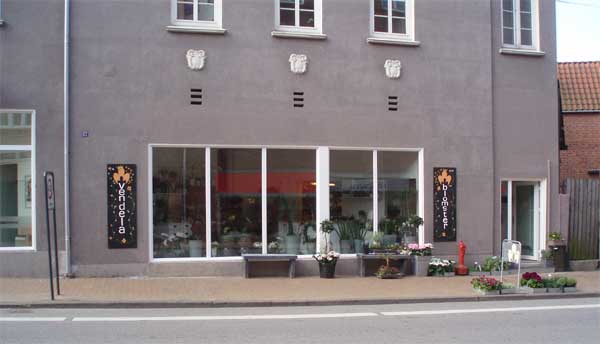 Da jeg lavede sdenne skildring, anede jeg ikke at butikslokalet ville være blomsterbutik et år senere.
Men på en måde passer Vendela blomsterbutikken fint ind i disse omgivelser. Maj 2009.
When this telling was recorded, I had no idea that a the location would be a flower shop a year later.
Nevertheless, the Vendela flowershop does match into these surroundings. May 2009.


---
Men - selv om Stikoni ikke lever mere, lever det han har skabt videre. Butikkens inventar og værkstedet blev flyttet, og er nu genskabt som Sønderjyllands Radiomuseum i nye lokaler hos EUC Syd. Man har forsøgt at genskabe de specielle rumforhold med lidt plads og sære lokaleudformninger.
But - even if Stikoni is no longer among us, the things he created dolive a new life. The inventory of the shop, and workshop was moved and is now recrreated in new rooms at EUC-Syd n Sønderborg. They have even tried to recreate the odd room conditions.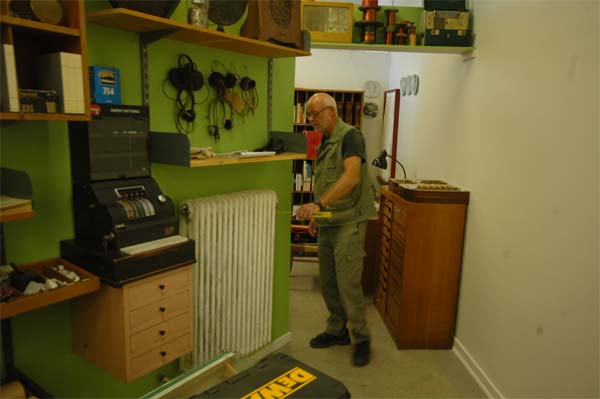 Her er Radiomuseet under indretning. Sven Dyhr tager mål af situationen i butiksafsnittet.
Here is the Radio Museum in process. Sven Dyhr takes measure of the situation in the shop sector.

Et billed er fra Stikonis forretning, det andet er fra Radiomuseet.
One picture is from the original shop, the other from the radio museum.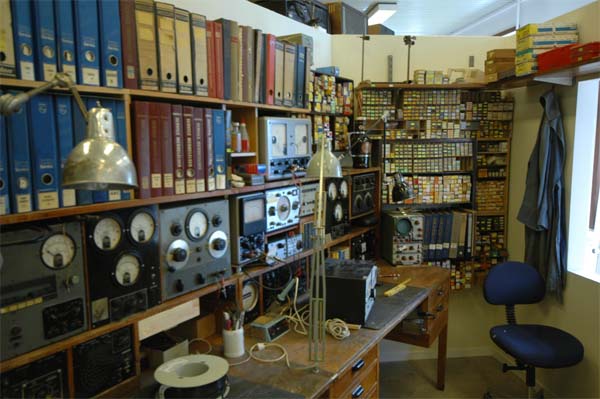 Her er værkstedet genopstået.
Here is the workshop again.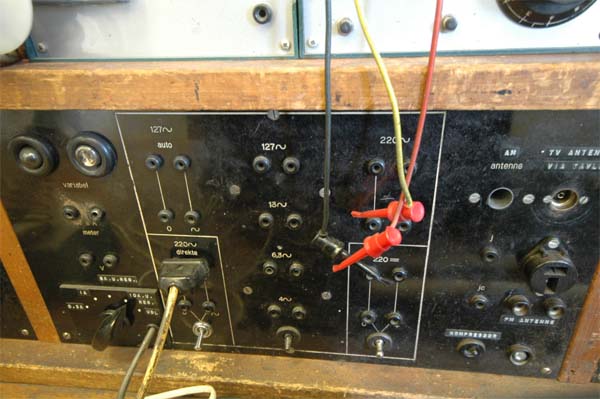 Og man kan se nærmere på gammelt værksteds - og måleudstyr.
There is the chance for a closer look at old workshop equipment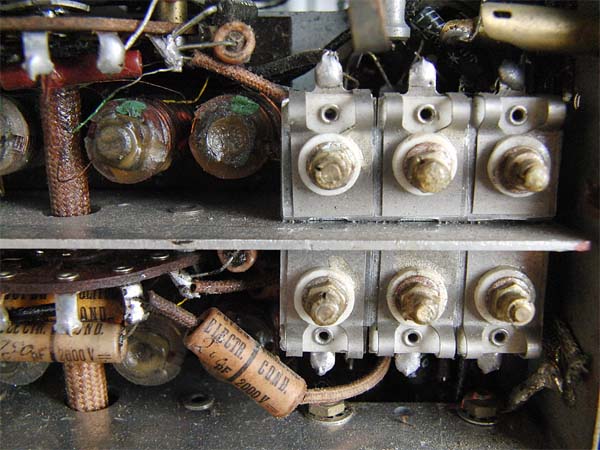 Og interiør af gammelt elektronik, her alt håndsamlet, med kondensatorer med værdier påskrevet med hånden.
Here interior of old electronics, all handassembled, with capacitors with handwritten value assignment.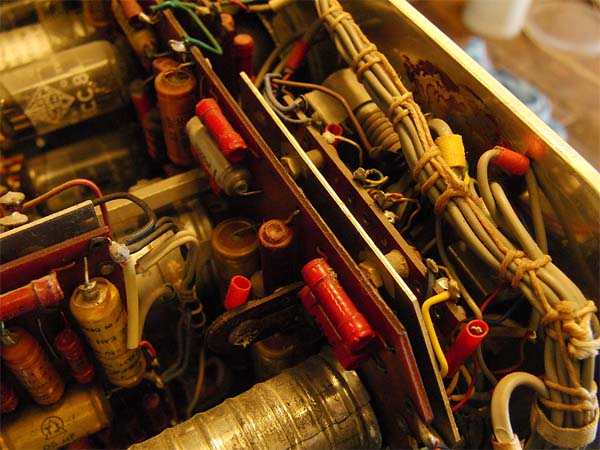 Flere håndsamlede detaljer.
More handassembled details.
Mere om Sønderjyllands Radiomuseum, åbningstider, samt flere informationer kan findes på Museets hjemmeside:




© Kim Christensen 2008-2011