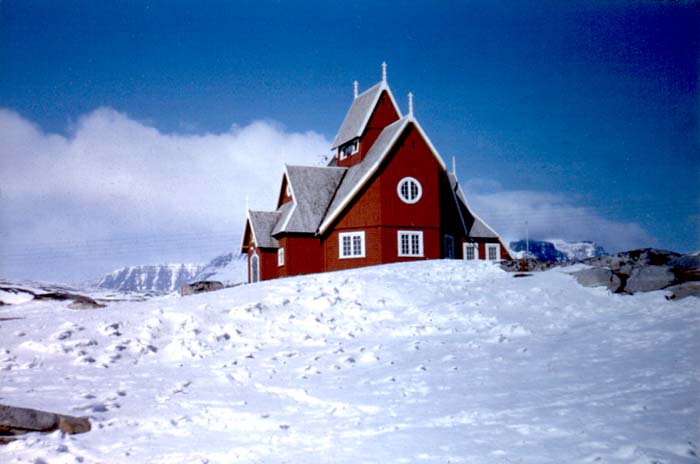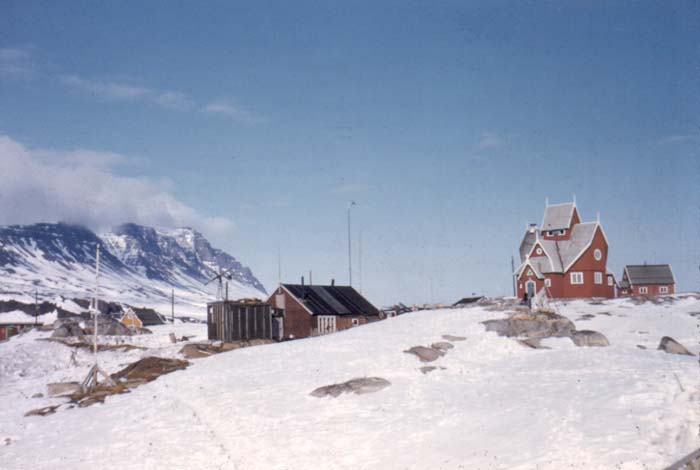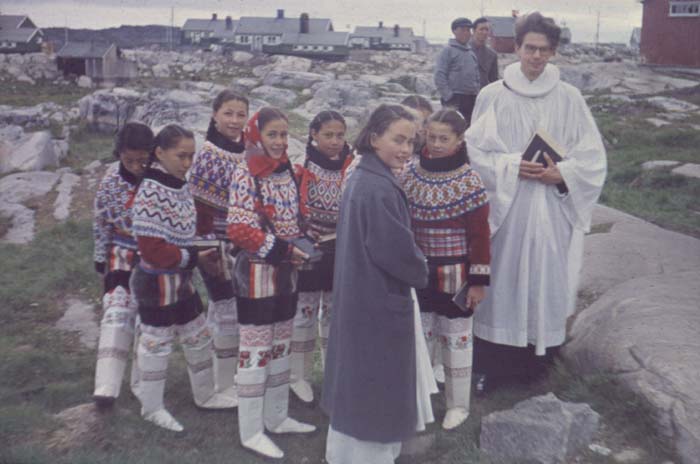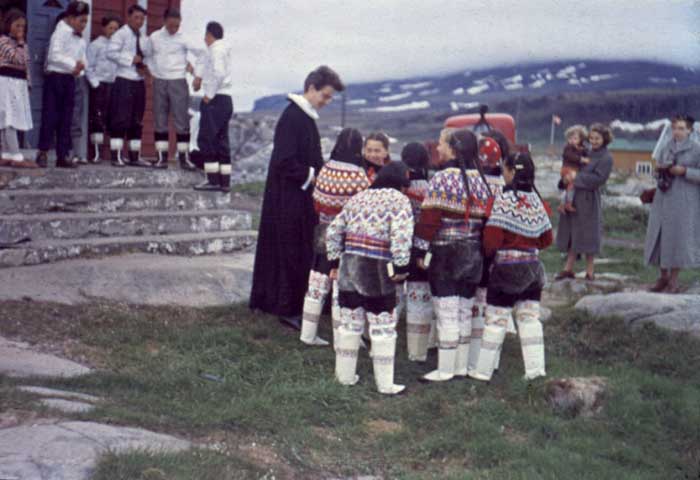 Den særprægede kirke kaldes "Vorherres Blækhus.
The strange church is called "Our Lords ink pot".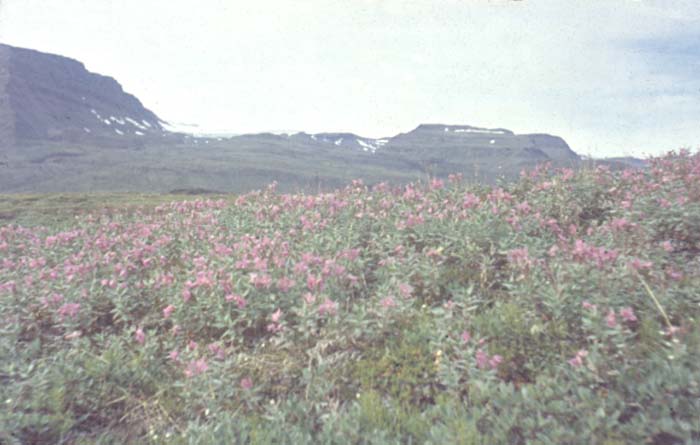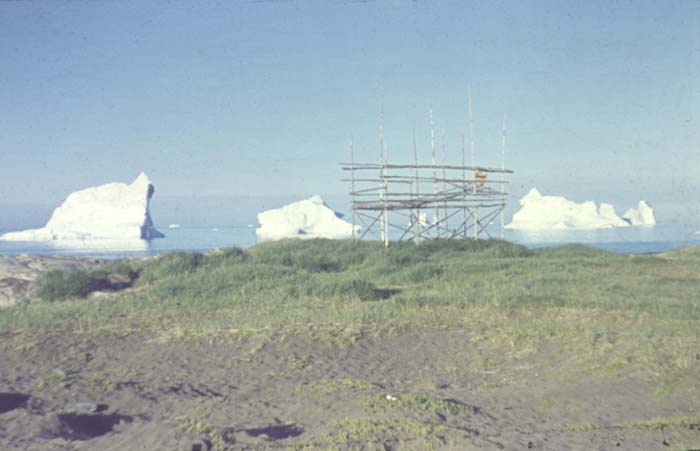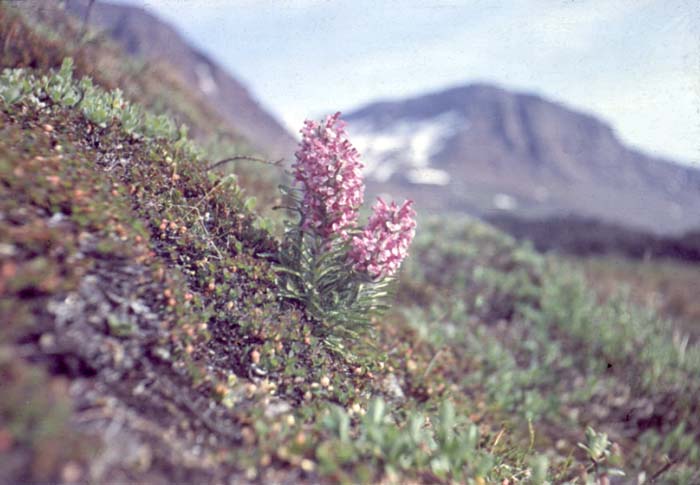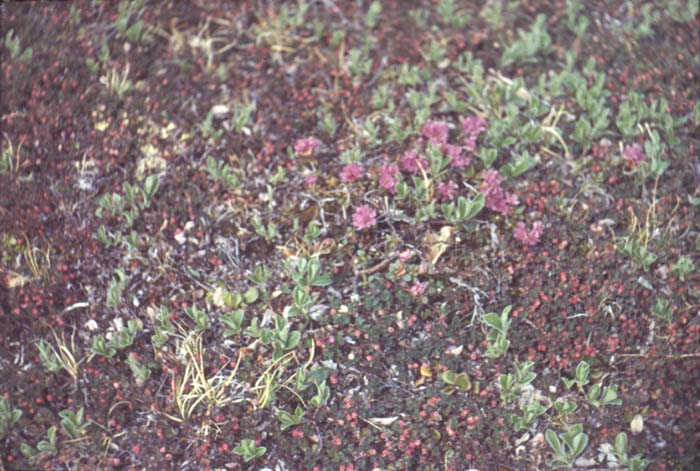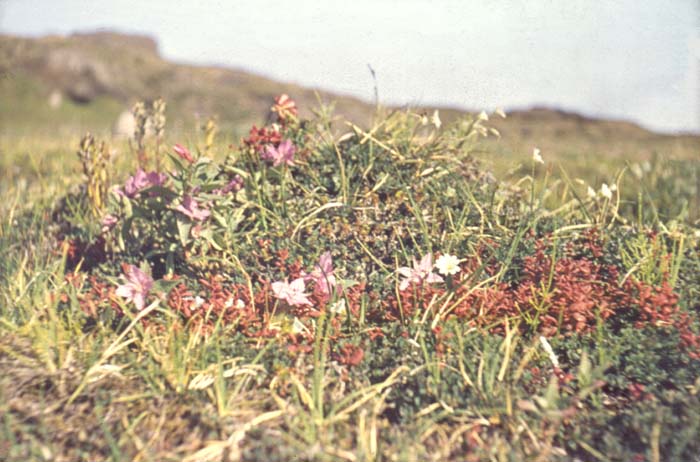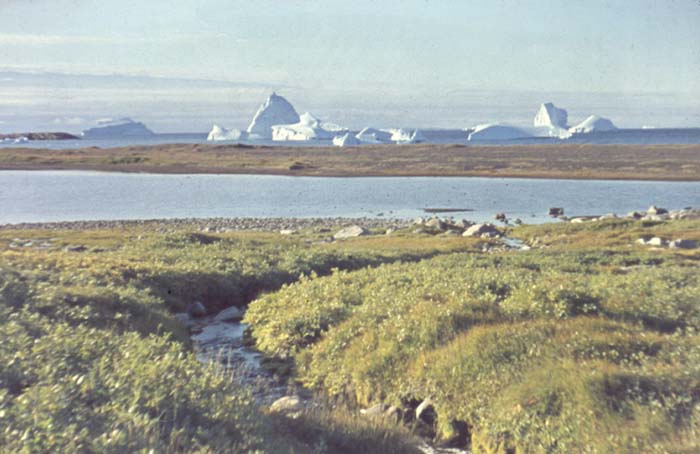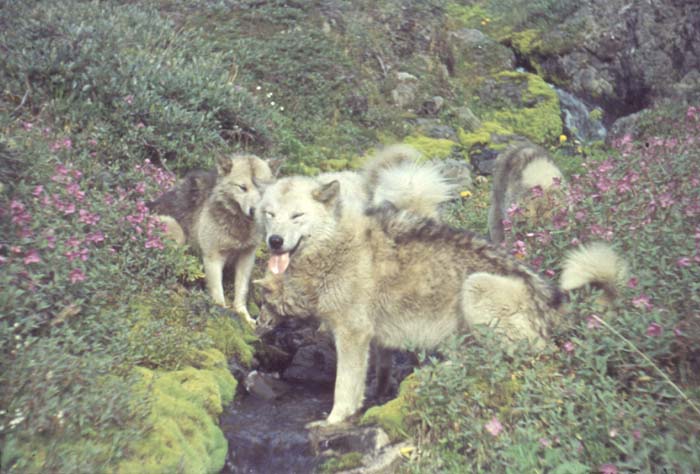 Røde Elv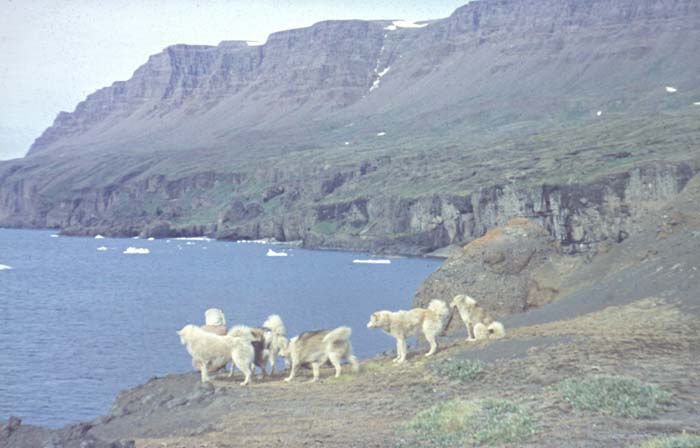 Kuannit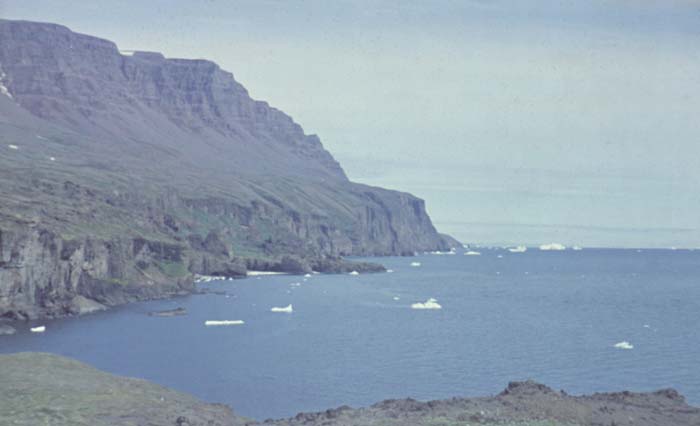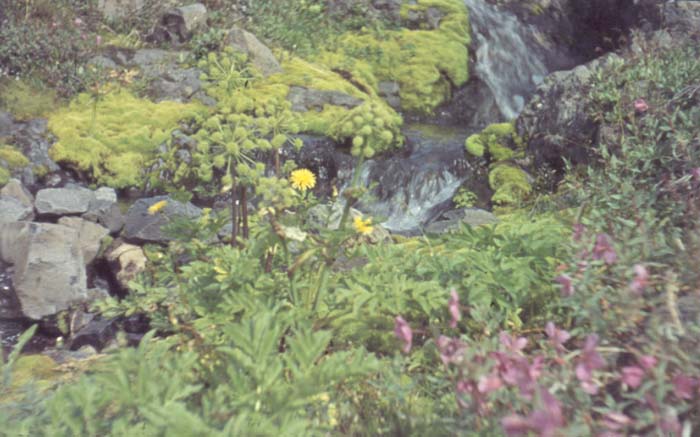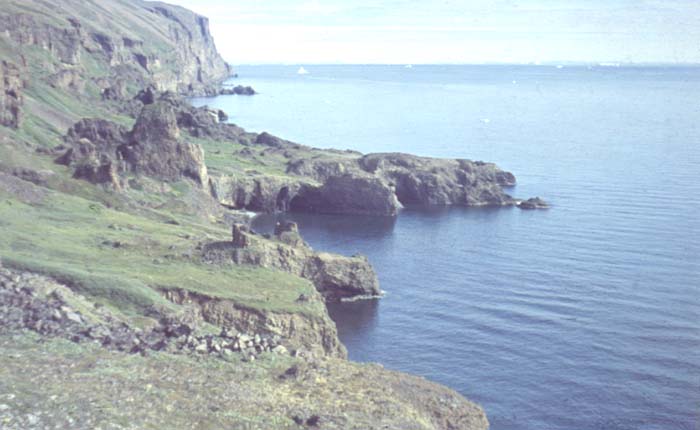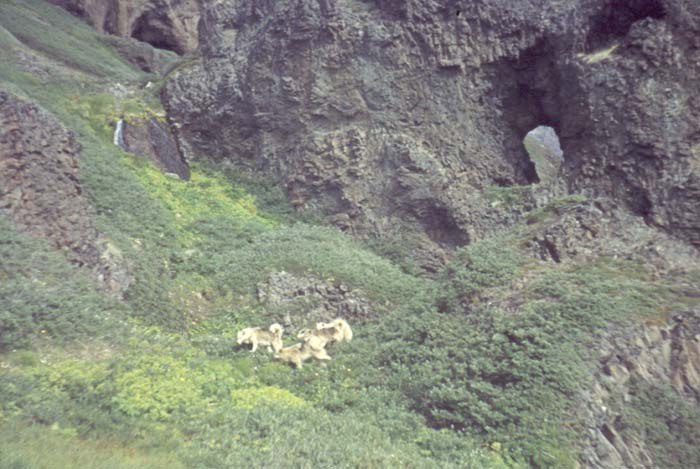 Lyngmarksfjeld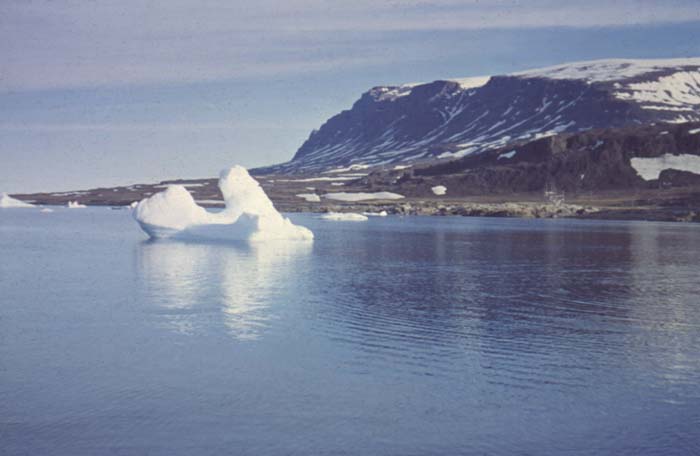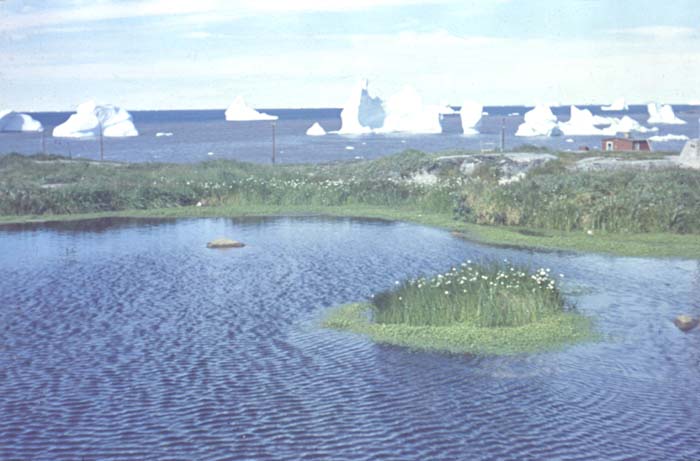 Naturen kan man bedst lade tale for sig selv.
Let Nature talk for itself.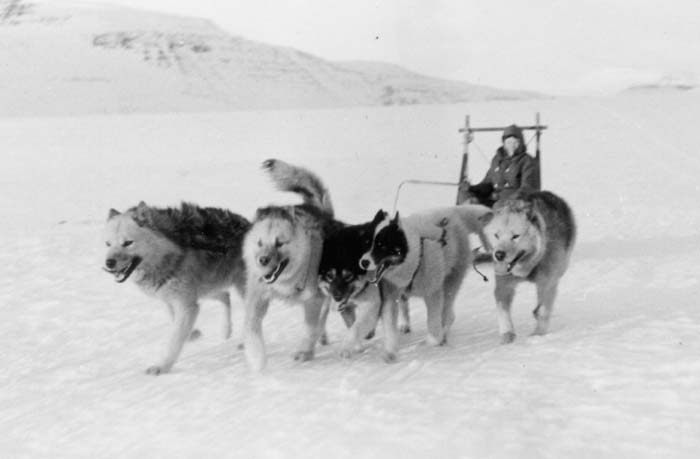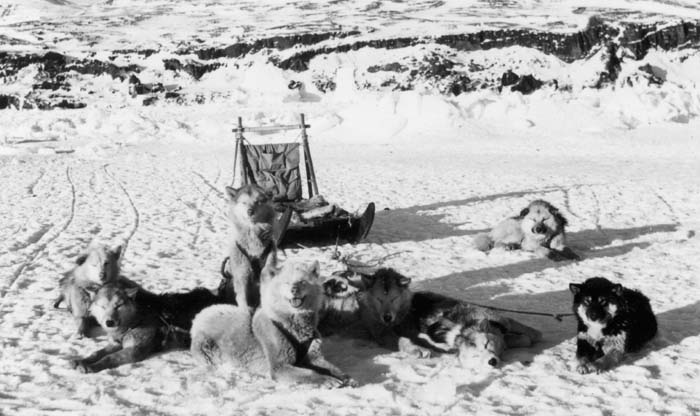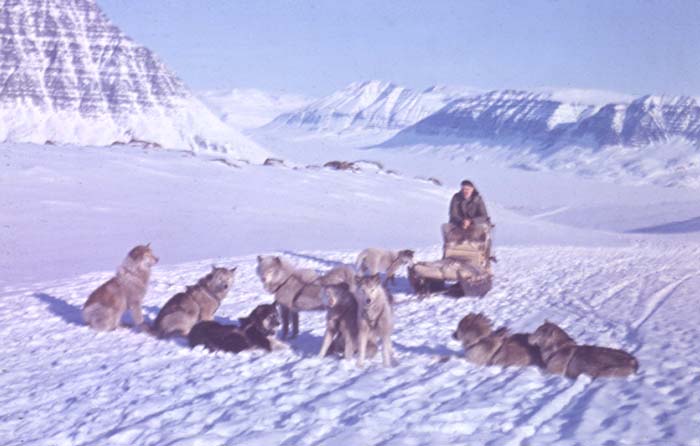 Hundeslæder var det bedste egende transportmiddel.
Dog sledges were the best transportation.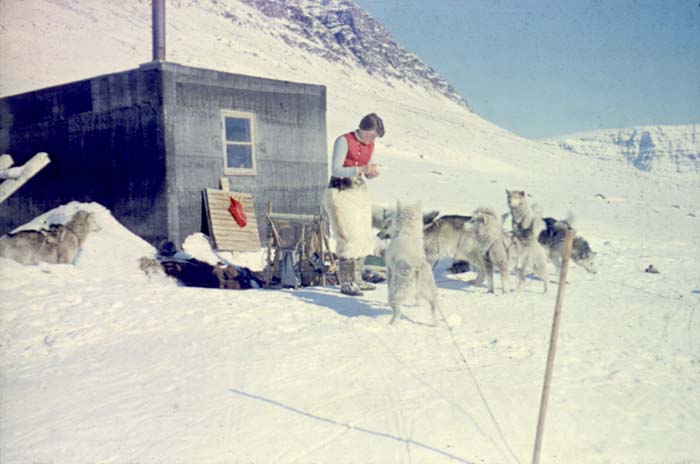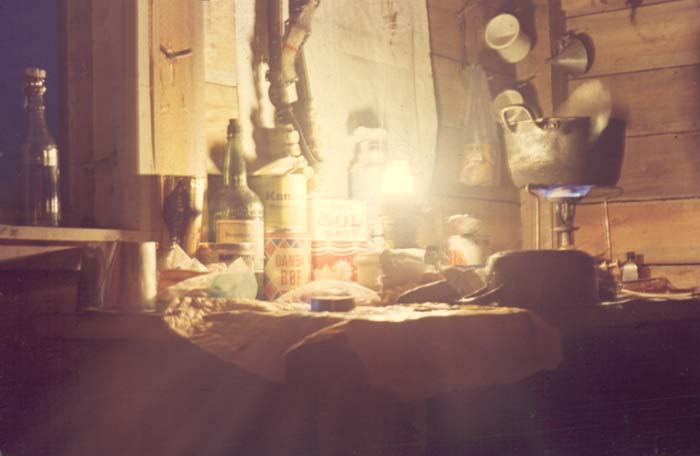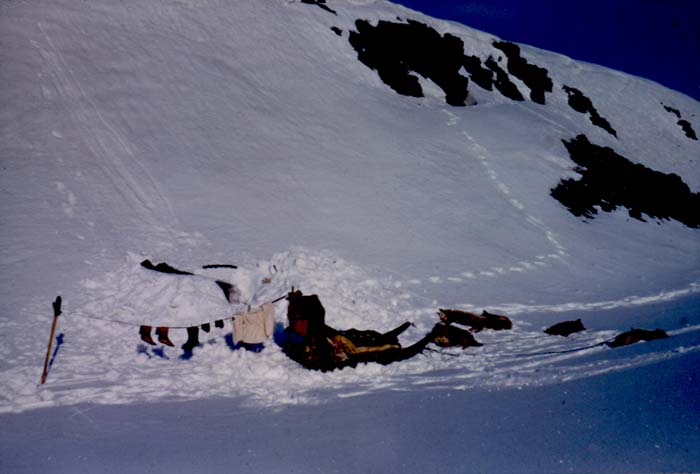 Ofte var fangstturene så lange at man måtte overnatte i hytter, med meget primitive køkkenforhold, eller lave sine egne snehuler. Indgangen til en sådan snehule kan lige anes bag tørresnoren.

Often the catching expeditions were so long that staying the night out in nature was necessary, thus such hovels vere useful, even if the kithcen was rather simple - or a snow den had to be made, the entry may be spotted behind the drying line on the lover picture.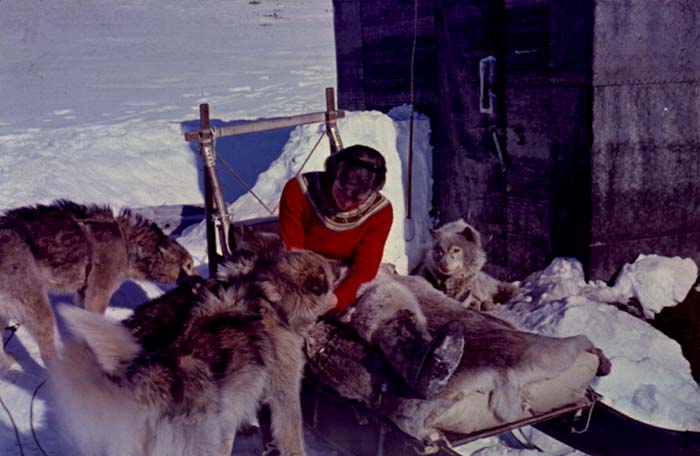 Ikke alle Grønlandske slædehunde er så kælne som disse. På en tur som gav meget god fangst var hundene ved at køre trætte på hjemvejen, slæden var tung. Man mødte en fanger som var på vej ud, hans hunde var udhvilede. Der blev snakket lidt, og det endte med at man købte en hund af ham, betalingen blev lidt af fangsten. Hunden hed Ubik og var en slæber, men også meget aggresiv. Med Ubiks friske fræfter, og lettet for lidt last kom slæden sikkert hjem.

Not all Greenland dogs are so affectionate. On a long ride that gave a good catch, the dogs got tired on the way home, because the sledge was too heavy. They met a sealer wo was on the way out, his dogs were rested. It was aggred that they bought a dog form him, the payment was some of the catch. The dog's nae was Ubik, he was a heavy duty dog, but also very aggresive. With Ubik to help, and eased of some catch, the sledge got safe home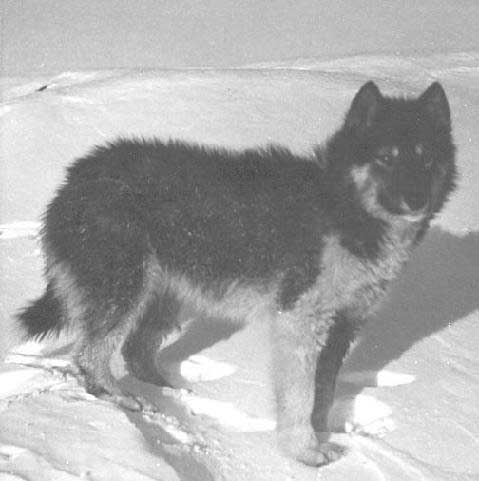 Ubik.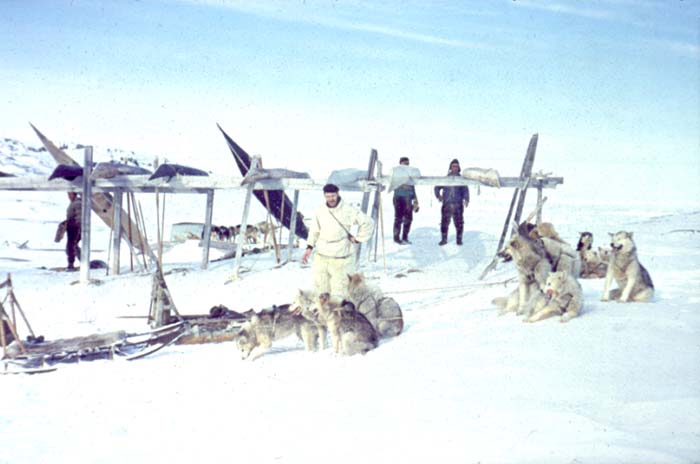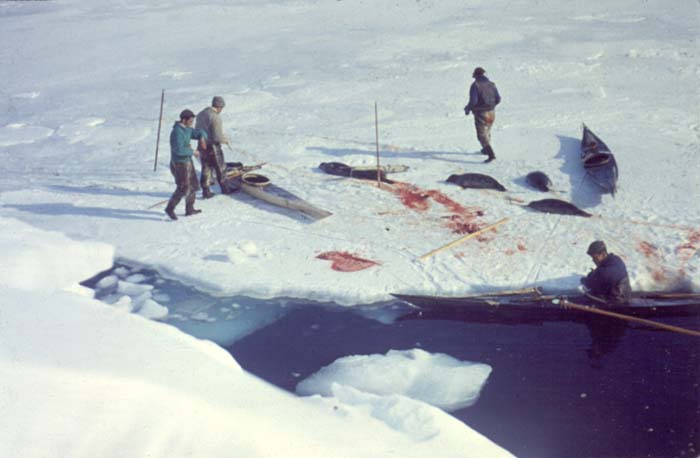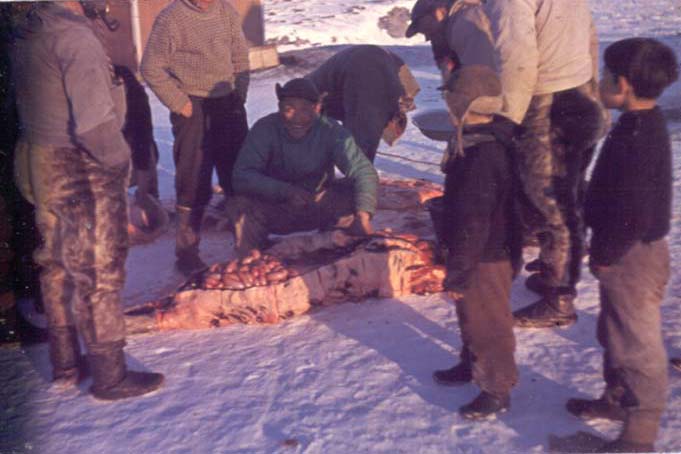 Her er der gjort klar til fangst, og der bliver fanget små hvaler og sæler.
Here the catch is being prepared, small whales and seals are caught.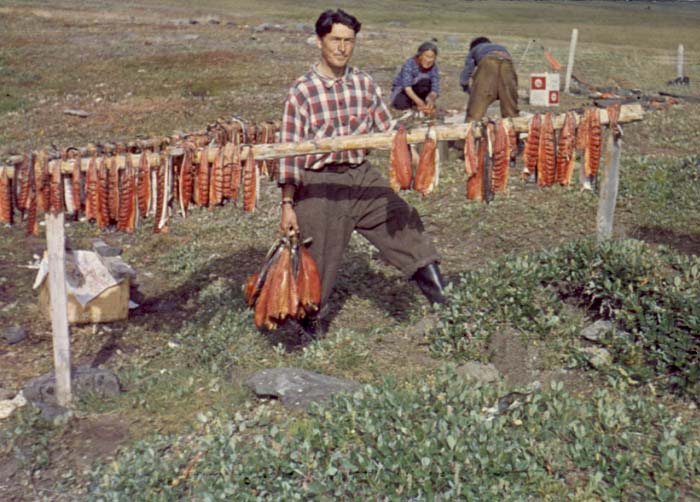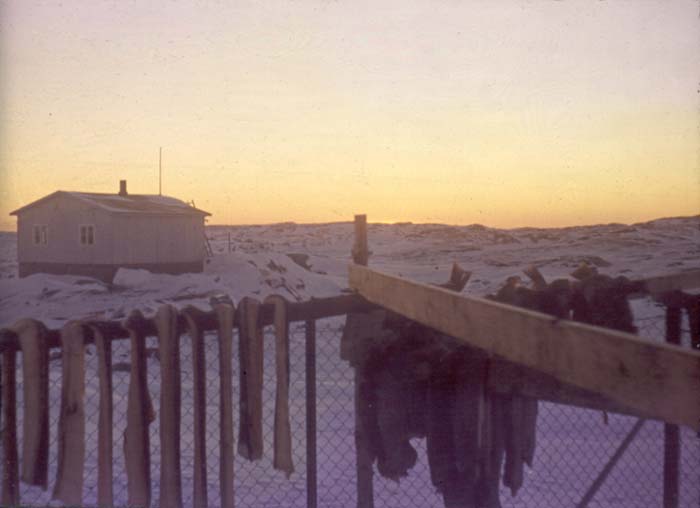 For at fangsten kan holde i lang tid er tørring en nødvendighed, den lave luftfugtighed er en fordel.
I vinterhalvåret var man reelt afskåret fra omverdenen, der kunne ikke komme skibe ind. Der blev nu og da nedkastet en luftpostsæk fra fly, det var eneste kontakt til omverden. Derfor måtte fangsterne klargøres til at kunne holde vinteren over.

The cacth is dried in order to preserve it for a longer time, the low humidity is of advantage.
During the winter the village was seperated from the rest of the world, as no ships could get to port, and planes could only deliver mail by dropping it. Thus food reserves had to be preserved in order to remain useable over the wintertime.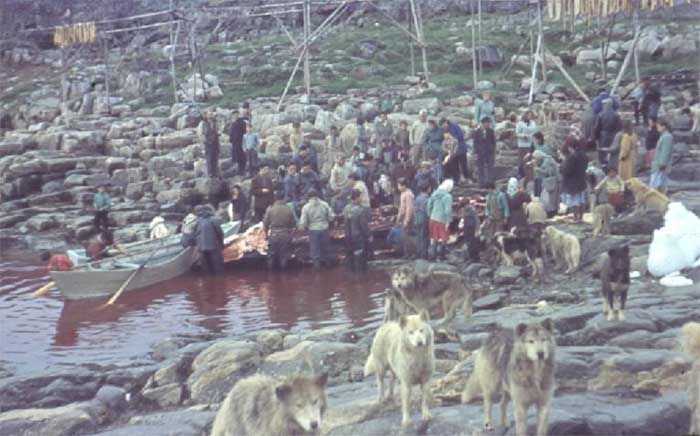 En mindre hval er blevet dræbt og trukket ind i bugten, hvor den slagtes ved bredden. Slagtningen er et tilløbstykke for både mennesker og hunde. Vandet farves helt rødt af blodet fra slagtningen.

A small whale has been killed and hauled into the bay where it is parted. Man and beast come to watch and probably get some of the catch. The water is red from blood.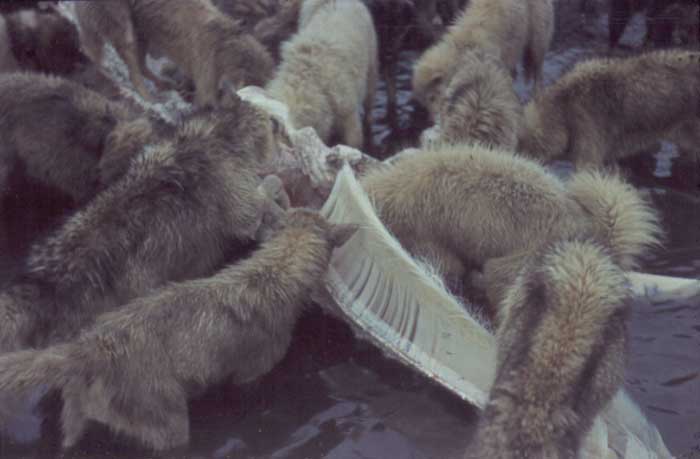 Hvalbarder kan ikke bruges til så meget, men de dur som hundeføde.
Whale baleen is not so useful, so they are used as dog food.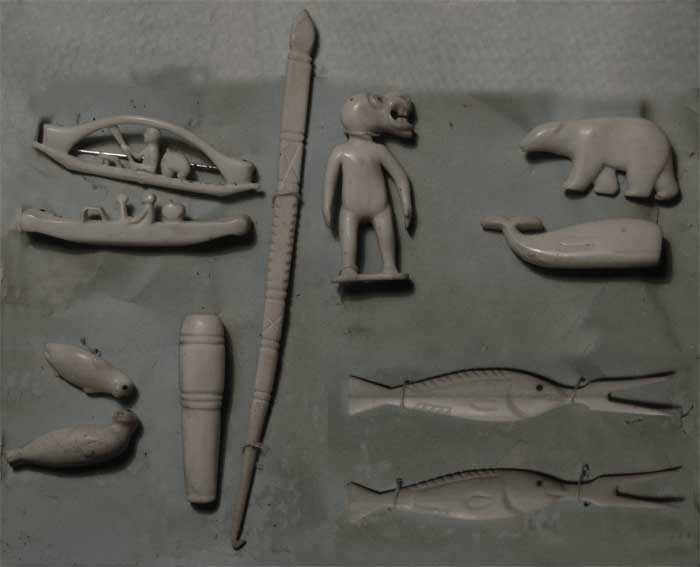 Hvalrostand brugte man til fremstilling af forskellige praktiske og symbolske ting.
Walrus tooth was used for the making of different practical and symboic objects.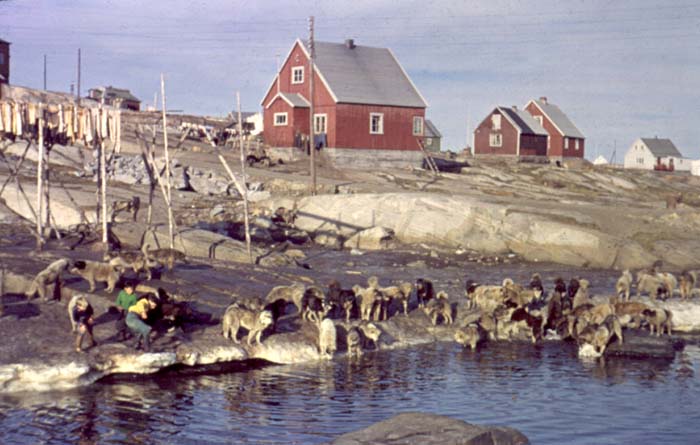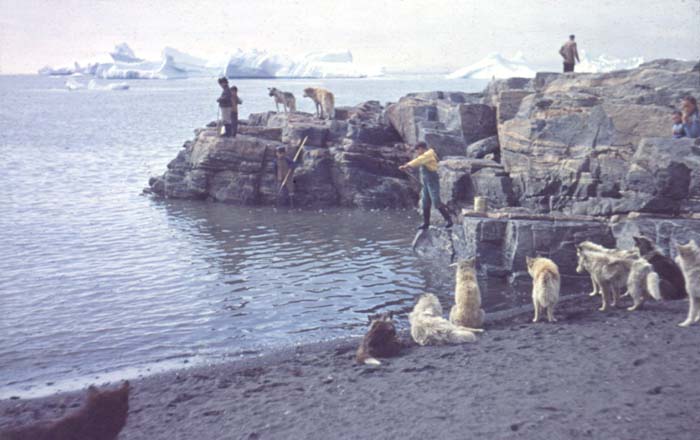 Det var nu ikke altid at fangst of fiskeri var besværligt. Ind imellem kunne det ske at en sildepisker (lille hval) drev en stime amasetter ind i bugten. Det opdagede man ved at hundene gik ud i vandet og fangede amasetter. Stimen var så langt inde på land at de bare kunne labbe fiskene i sig. Snart rygtedes det, og så kom folk til og skovlede fisk i land, sommetider med de bare hænder.

Fishing was not always difficult. It could happen that a piked whale forced a shoal in to the bottom of the bay. The dogs could then eat the fish direct out of hte water, as there was no escape. Rumours went around, and soon people arrived and caught all they could, sometimes with their bare hands.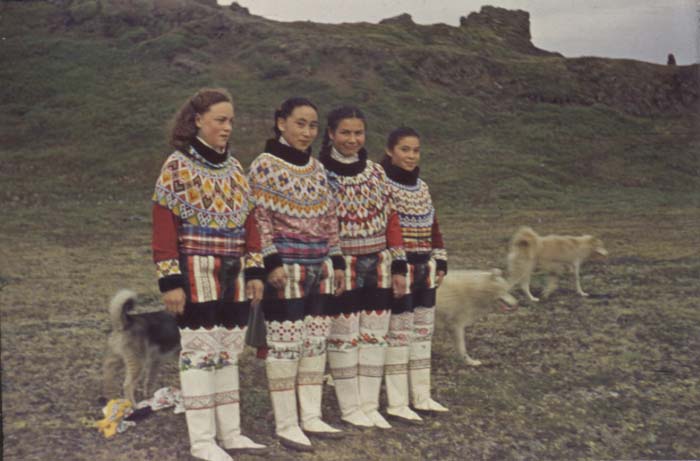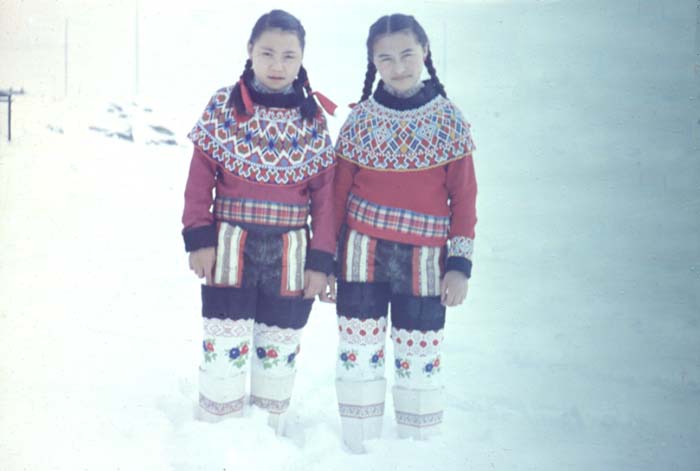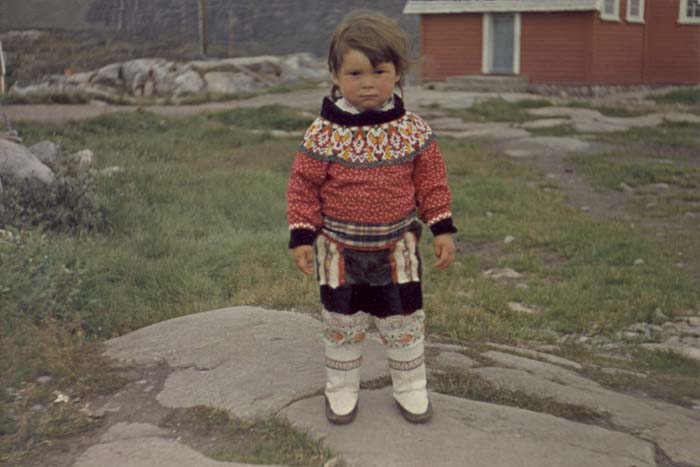 Nationaldragter.
National dress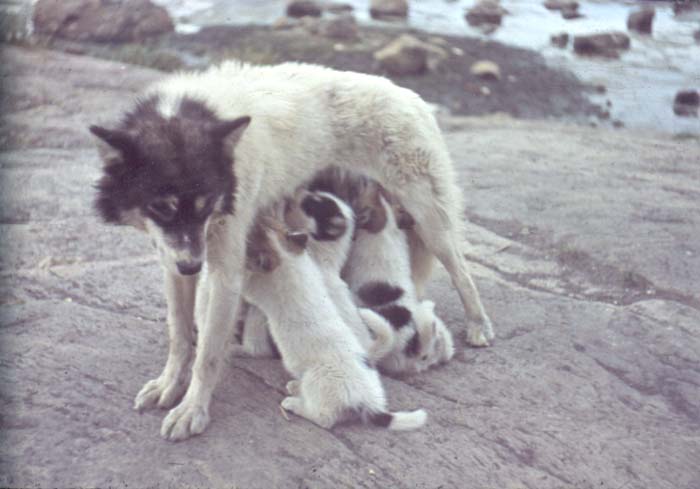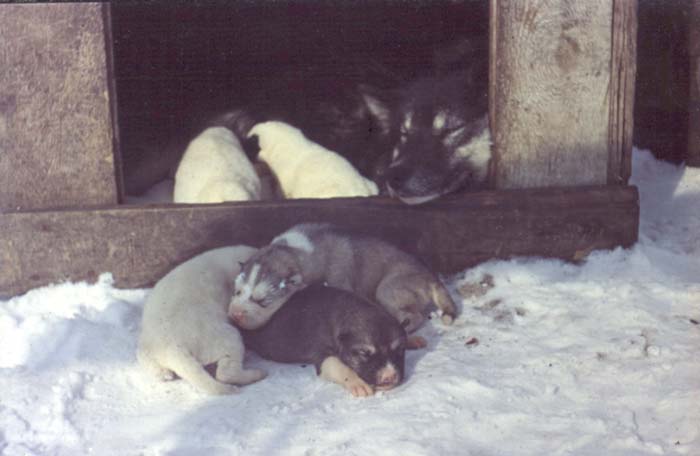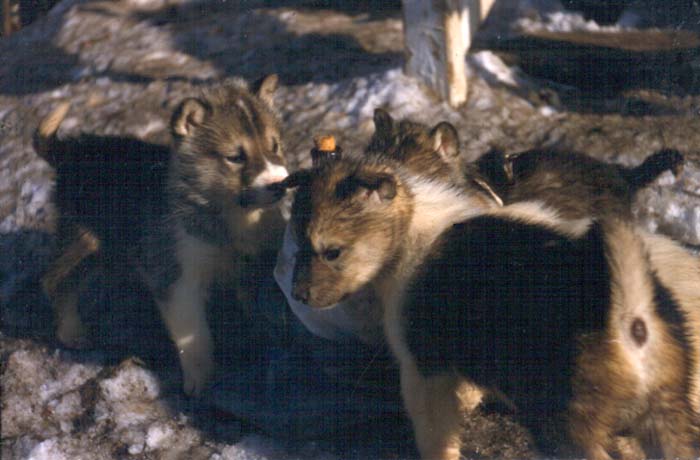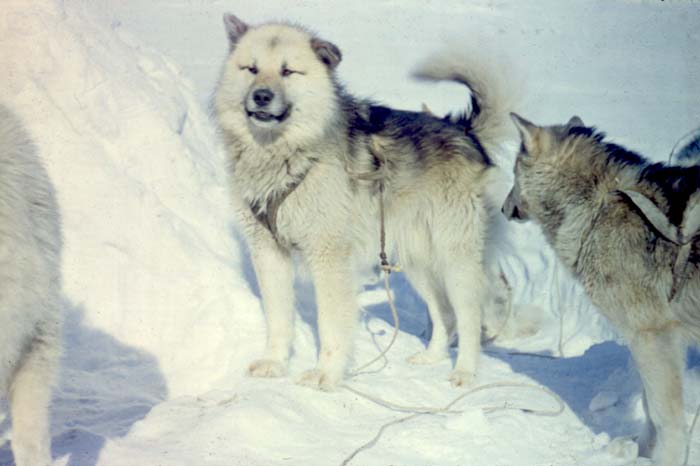 Hundene var overalt, og havde større betydning end i dag. Motorslæder er smartere..?
Dogs were everywhere, and were more important as today.

Flere Grønlandshundebilleder Her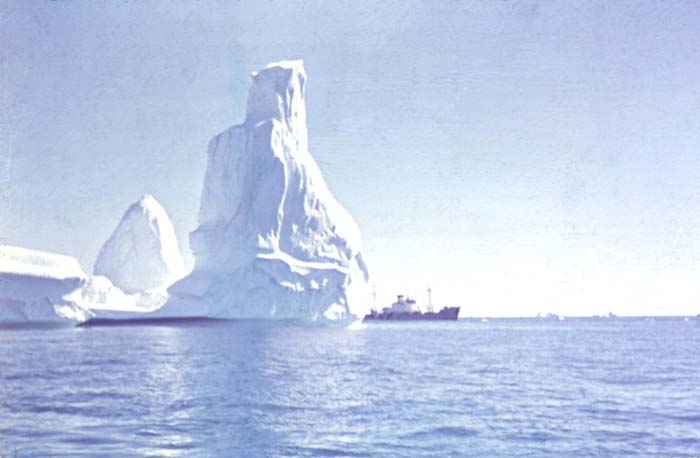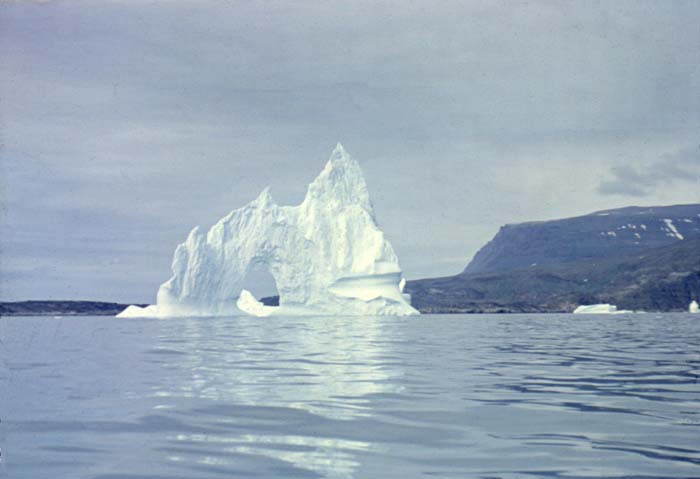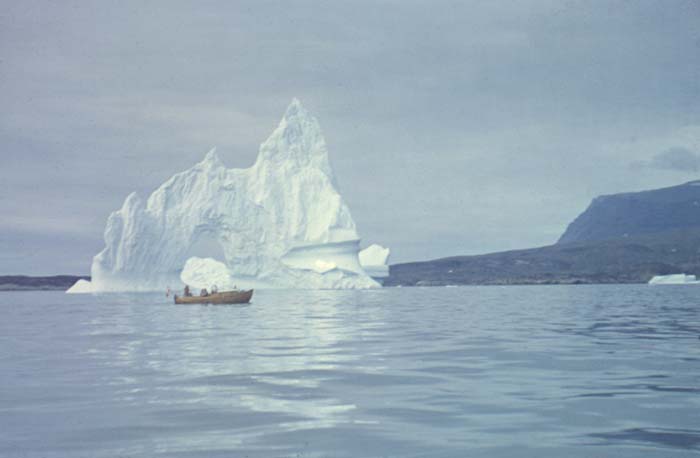 Isbjerge er smukke, men farlige.
Icebergs are beautiful, but dangerous
© Kim Christensen 1999-2006